From the lab to the field ZC Analytics provides the most user friendly Perfectly Portable Spectrum Analyzer
Transform your iPad, iPhone, Mac, or PC into into a dual band spectrum analyzer
The WiPry 2500x visualizes all spectral activity on both 2.4 & 5 GHz. Now it's possible to identify and avoid interference so wireless connectivity can be optimized.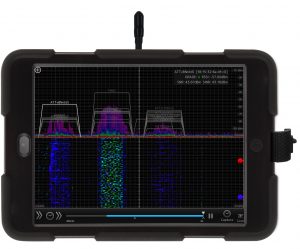 Compact design saves space in the lab and in the field
Cost-effective for educators and students
Easy-to-use touch screen interface on mobile devices.
Runs on iOS, Android, Mac, and PC

Specifications:
2.4 & 5 GHz Spectrum Analyzer
Android, iOS, PC, MAC Supported
Scan & Troubleshoot Wi-Fi
SSID's / RSSI
802.11 & ZigBee Channel Guides