At Kaha Sciences, we are proud to have been at the forefront of innovation and improvements in small animal telemetry systems for preclinical research.  Now we have taken this innovation one step further in utilizing our patented wireless power technology to develop the first fully implantable optogenetics stimulating and recording telemeter for rats

Key Features and Advantages include:
Unlimited power provides opportunity for long-term studies (weeks to months)
Unlimited power provides unrestricted stimulation patterns
Single implant allows biopotential recording during optogenetics stimulation
Fully implantable device – normal unrestricted animal behavior and movement with no tethers
Fully implantable device – reduces probability of infection at cable exit sites
Fully implanted device – reduction in cost of maintenance and replacement of tethers
Software controlled, user defined stimulation parameters
Easily integrates into existing Kaha Sciences installations (minor updates required)
Access to all the other beneficial aspects of the Kaha Sciences rat telemetry system, including Cohousing, dual implantation and recording away from the SmartPad.
Sampling data at 2 kHz, ensuring high data quality
40 selectable Independent transmission frequencies
Optogenetics is a relatively recent technique which uses light to precisely control neuronal cells that have been transfected with a specific channel rhodopsin.  Compared to conventional electrical stimulation, optogenetics reduces the activation of neighboring cells ensuring that stimulation is highly targeted and results in specific physiological and behavioral effects.  Current tethered or head-mounted systems have disadvantages including:
increased susceptibility to infection
impacts normal physiology and behavior
restriction of experimental duration and protocols due to restraint and/or limited battery-life
additional costs of tether maintenance and replacement.
Check out our Applications page for ideas of how telemetry might apply to your research.
If you would like any additional information regarding the Kaha Sciences Optogenetics or any telemetry solutions please contact us at sales@kahasciences.com.
Telemeter Specifications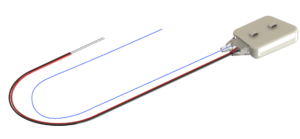 The TR58AB Kaha Sciences Rat Optogenetics Biopotential telemeter is suitable for use in rats >175 g.  The TR58AB combines optogenetics stimulation with recording of a single biopotential signal (e.g. ECG, EEG or EMG) in a single implant.  The telemeter is reusable and has a 35 cm fibre optic allowing for direct placement of the stimulating blue light (460nm) at target cells and 25 cm biopotential leads.  The telemeter is fully implantable and encased in a durable, biocompatible hard-shell (liquid crystal polymer), the telemeter weighs approximately 12 g.
The TR58AB is compatible for use only with a Kaha Sciences TR181 SmartPad and TR190 Configurator.  When used on the SmartPad, 24/7 wireless power and data transmission is available.  The battery backup in the TR58AB allows the telemeter to continue stimulating and transmitting data whilst on the SmartPad as well as providing approx. 3 hours (stimulation pattern dependent) of power if the animal is away from the SmartPad recharging field.  For laboratories with existing TR181 and TR190 hardware, the firmware will need to be upgraded, please contact your local distributor for more information.