Electrical Mapping Systems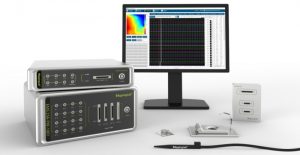 The Electrical Mapping Systems (EMS) are equipped with new generation Multi-Electrode Arrays (MEAs) and high-performance amplifiers. The advanced EMapping software facilitates fast recordings of field potentials from in-vitro,  in-vivo, and ex-vivo cardiac samples. The electrical activity and conductive information can be studied in great details at tissue level.
The precision of data acquisition system makes it possible to accurately detect abnormalities on ion channels. It also can be grouped with other devices such as ventricular or coronary pressure probes, monophasic action potential system (MAP), myocardial tension, perfusion temperature and the optical mapping system. These features immensely empower cardiac electrophysiological researchers to understand better about mechanisms of cardiac arrhythmias. Our system is also an ideal candidate for efficiently screening new anti-arrhythmic drugs and testing drug toxicity.
Applicable animals: Zebrafish, mice, rats, guinea pigs, rabbits, dogs, sheep, pigs, monkeys.
Applicable tissues: cardiac slices and tissues, conductive tissues including sinoatrial node, atrioventricular node, Purkinje fibers, iPSC cells as well as in-vivo and  ex-vivo heart preparations.  The system can also be used for neurologic applications: brain in-vivo , brain slices,  and also with gastrointestinal tissues and uterus with customized system.
Features
High performance amplifiers and analog-digital converters (ADCs).
Advanced acquisition and intuitive analysis software.
Data transmission: USB or PXI fiber optic transmission.
Various size and layout.
Up to 16 additional channels.
Multiple input/output (I/O) connectors.
USB CCD camera.
12V DC power supply.
Software
The EMapRecord is an advanced acquisition software for recording up to 256 multi-channel data, whereas EMapScope is a high-performance analysis software with an user-friendly interface.
EMapRecord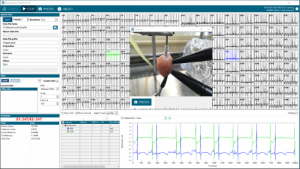 EMapRecord-Acquisition
Up to 256 channels (plus extra channels) of continuous data acquisition
Programmable gain amplification
Broad range of electrode array layouts available for different applications
Live camera for positioning electrode arrays
Online digital filtering
Flexible data streaming
Easy to install and operate
Free software upgrades
EMapScope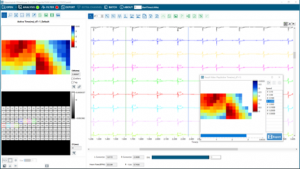 EMapScope-Analysis
Simultaneously display captured images of preparations, electrode position and experimental notes and easily identify the electrode layout with corresponding data
Flexible selection of regions of interest
Online digital filtering, frequency spectrum analysis and power spectrum analysis.
Intuitive electrogram traces, activation time, conduction vector and velocity analysis.
Flexible data streaming
Batch file process, activation and conduction map and videos, ready-to-use figures.
Easily export results as data sheets, graphs, pictures or videos
Free software upgrades